Ultimate 1 Week Travel Guide To Northern Vietnam
Hi Loves!

I'm so excited to bring to you my Ultimate 1 Week Travel Guide To Northern Vietnam! Vietnam has been on my travel bucket list for years now, and it was amazing to finally go! Since we only had one week to explore, we decided to focus on Northern Vietnam, with the 3 main destinations being Hanoi, Ha Long Bay, and Ninh Binh. I've pulled together all the travel tips, main attractions to see, places to eat, where to stay, and other pertinent information to make this the perfect travel guide for your trip to Vietnam.

OUR ITINERARY
With 1 week to explore Vietnam, we used Hanoi as a base from which we would travel to our other cities in Northern Vietnam. Our loose itinerary goes as follows:
Day 1-2: Flight + Hanoi
Day 3-4: Ninh Binh
Day 5: Ha Long Bay
Day 6-7: Hanoi + Flight

TRAVEL TIPS
BEST TIME TO GO
The best time to visit Northern Vietnam is in the spring and fall, when it's cooler, and the rains are less frequent. October through April will be your best bet. Here's a breakdown by season:
January - March (coldest, dry)
May - September (peak season, rainy, hot, humid)
October - April (moderate, less rain)

WHERE TO STAY
Hanoi Airbnb: Here (Listing no longer available)
Ninh Binh Hotel: Ninh Binh Hidden Charm Hotel & Resort


HOW LONG TO STAY
If you can, spend several weeks exploring northern Vietnam, but if you have a limited amount of time, I'd recommend at least 1 week. That gives you roughly 2 days per city, including Hanoi, Ha Long Bay, and Ninh Binh. If you can, try to squeeze in a trip to Sapa as well!


HOW MUCH TO PACK
For a 1 week stay, a single carry-on and a small backpack/purse should suffice. Try to bring pieces that you can wear multiple ways, and take advantage of an Airbnb with laundry! I always prefer to pack too little and have to buy a shirt (for example), than pack too much and not need half the things I brought. Be ready for Vietnam's tropical weather, and flash floods. A light rain jacket with a hood, and sandals will be a must!
HANOI
Hanoi has been the capital of Vietnam for around 1,000 years and is a bustling city filled with Chinese, French, and Southeast Asian influences. I love pretending to be a local as I meander the bustling street markets, or weave through the sea of motorbikes. My favorite part of Hanoi is definitely Hanoi Old Quarter, because it feels like a place paused in time. Check out my extended post on the Old Quarter here! As you explore Hanoi, the mix of Buddhist temples, traditional Vietnamese architecture, and French colonial architecture is a visual reminder of the rich integration of cultures that make this place so special.

HOW LONG TO STAY
Because most people will be flying into Hanoi International Airport, Hanoi should be used as a base. 2-3 days should be good for Hanoi, and then you can take day trips or shorter trips to Ha Long Bay, Ninh Binh, or Sapa. We booked our Airbnb for the entire week, which allowed us to come and go as we please.

TOP SITES
BEST MODE OF TRANSPORTATION
Taxi is the easiest mode of transportation in Hanoi. Since there are a lot of taxi scams in Vietnam, we found using the Grab App was really useful. It's the equivalent of Uber or Lyft. You just put in your pick-up and drop-off locations, then the nearest driver is located along with a fare estimate. You then get dropped off safely and payment is settled through the app. Very easy and worry free!
WHERE I STAYED
Hanoi Airbnb: Here (Listing no longer available)

WHERE TO EAT
HA LONG BAY
Halong Bay is located in northeast Vietnam, a UNESCO site made up of around 2,000 limestone islets! The towering islets rise up from the beautiful, emerald water and is a gorgeous sight to see. So gorgeous in fact, that it's been the shoot location for many Hollywood films, including Kong: Skull Island (2017), Pan (2014), and 007 Tomorrow Never dies (1997). The views are utterly magical. It's a must-see stop in Vietnam!

HOW TO GET HERE
When you book a day tour or a cruise ship to Ha Long Bay, the tour service usually includes pick-up and drop-off from Hanoi. The ride takes about 3.5 hours to Ha Long Bay.
DAY TRIP TO HA LONG BAY
If you're planning on just a day trip to Ha Long Bay like us, I recommend booking a full day boat tour. We chose BC Family Tour, which included roundtrip bus rides from Hanoi to Ha Long Bay, a 4-hour cruise ride, a seafood lunch, an optional bamboo boat tour through the grottoes, and the Dong Thien Cung Caves, with amazing stalactite and stalagmite formations.

CRUISE TRIP TO HA LONG BAY
If you prefer cruises and want to spend a relaxing few days in Halong Bay, you can also book a cruise ship: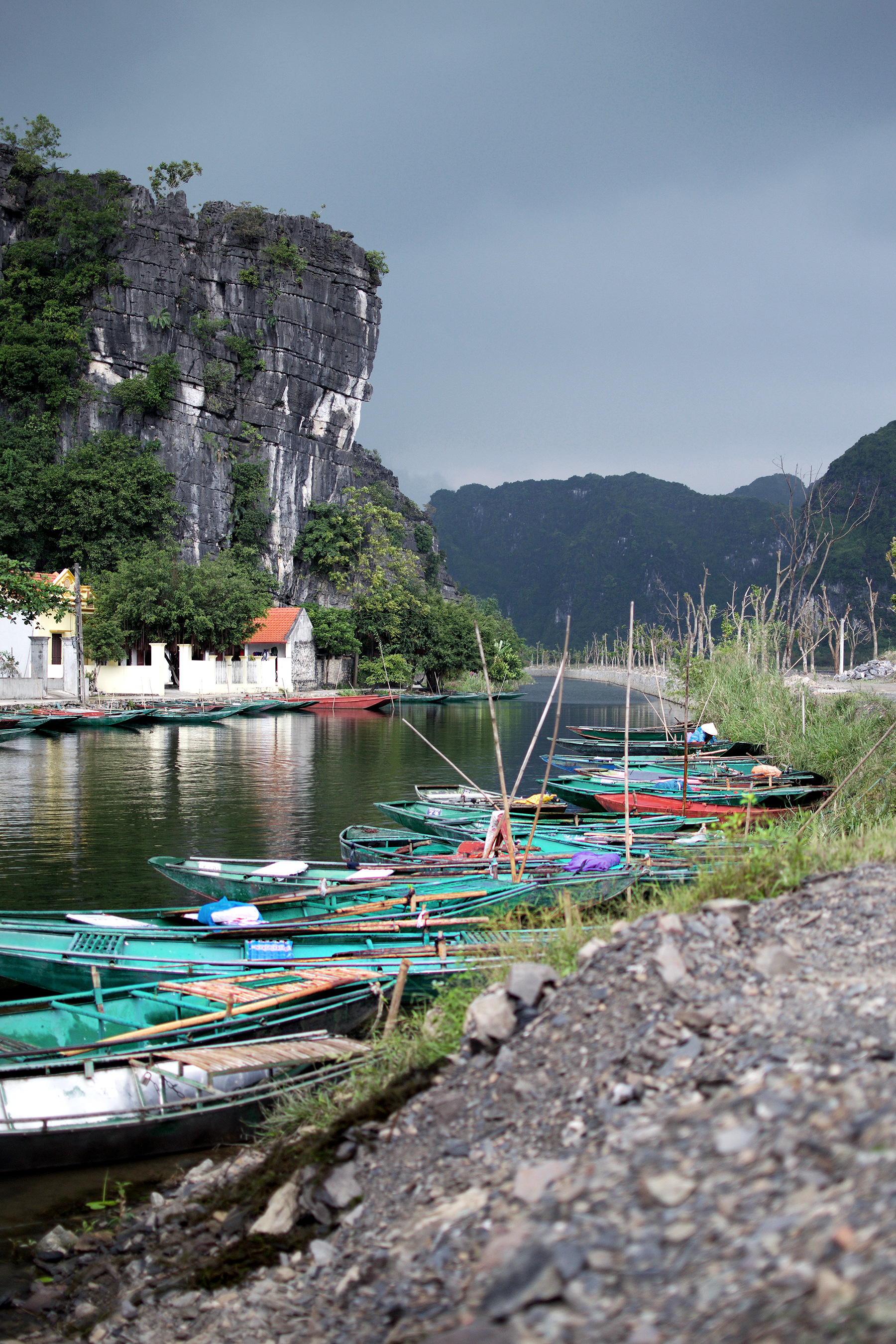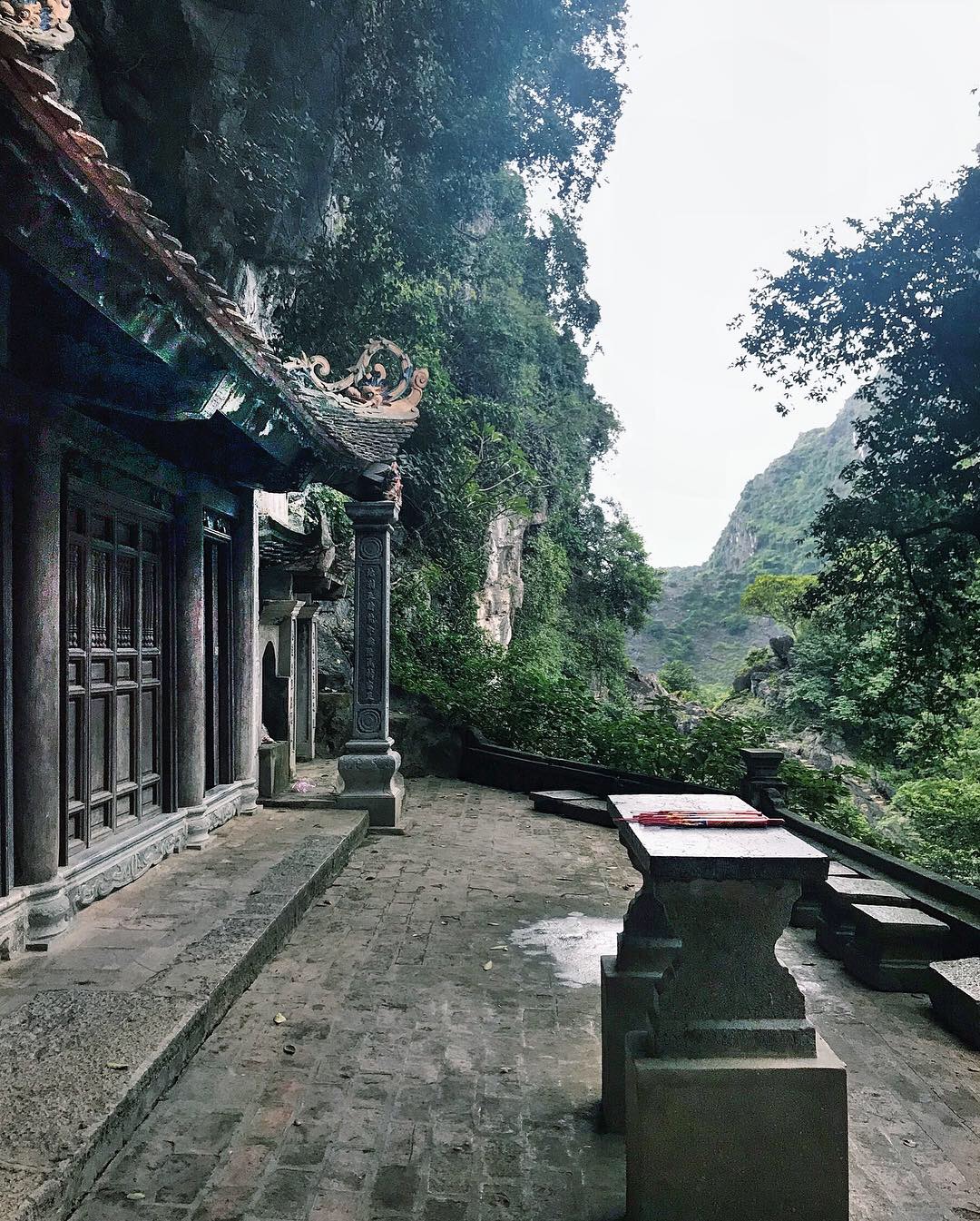 NINH BINH
Ninh Binh Province is about 2 hours by train from Hanoi, and boasts gorgeous gorgeous mountain scenery, endless rice fields, serene rivers, and water grottoes (caves) that you can view by boat tours. You may recognize it as one of the filming locations for Kong Skull Island! The tranquil atmosphere and peaceful scenery is so healing to the soul. It was such a welcome respite, that I enjoyed it even more than bustling Hanoi! I absolutely recommend coming here.

HOW LONG TO STAY
Ninh Binh is an easy day trip from Hanoi if you're pressed for time, but I definitely recommend staying longer. I was there for 1 night and 2 days, but I think 2-3 days is even better! It rained so much during our time there that I wish we could've had another day to see more sites.

BEST MODE OF TRANSPORTATION
BIKE: If your Airbnb/Hotel is within a few miles of many of the sites you'd like to see, I definitely recommend biking or scootering as the best way to experience Ninh Binh. You have the flexibility to stop and go as you wish and enjoy the gorgeous scenery. We rented our bikes at our hotel, but you can also rent bikes at most tourist sites, and the busy areas of town.
TAXI: For locations that are a little further away, book a taxi through your hotel, or you can hail a cab at popular tourist sites. Once I asked the lady at the ticketing booth at Mua Caves to help me call a taxi. Don't be afraid to ask for help, there are many helpful locals!
I hope you enjoyed this travel guide, and that you'll be able to refer to it for your upcoming Vietnam trip! Feel free to ask me any questions you have below, or suggest any must-see sites that I may have missed. I can't wait to go back to Vietnam and explore more! Don't forget to bookmark this page to reference it in the future, and pin the images below as well. Happy traveling, loves.

And as always, thank you so much for reading!

XOXO
Annie
Win a $400 Amazon Gift Card!
I wanted to give back to all you amazing readers and followers by teaming up with fellow bloggers to host this amazing giveaway! Win a $400 Amazon Gift Card by just giving a few minutes of your time!

HOW TO ENTER
Entering is easy! Use the widget below to enter. You can earn points for every action you take (follow someone on Instagram, click through to a blog post, etc). The more actions you take, the more points you win! The widget will randomly pick a winner, so your odds increase with the more points you have!
Make sure to actually do an action as we check to make sure you really entered correctly and will not award prizes to people lying.

EMAIL NEWSLETTER
As a heads-up, by entering this giveaway, you are opting into all the hosts' email newsletters. You may opt out of their newsletters at anytime after receiving them.
CREDITS:
Photography: Annie Cho, Jackson Kuo

SHOOT LOCATION:
Hanoi, Ninh Binh, and Ha Long Bay in Vietnam

DISCLOSURE STATEMENT:
This post uses affiliate links. Please read the disclosure statement here.