Norway Travel Guide
Went to Norway mid-June for four nights and five days and it was every bit as beautiful and memorable as we hoped it to be. Norway is a culture founded in Viking roots, and claiming its place as a destination for natural wonders, Scandinavian design, and more. From stunning landscapes and fjords, delicious food and coffee culture, and quaint, historic cities, there is so much to see and love in this country!

During our 5 day stay we visited the lower half of Norway, including Oslo, Bergen, as well as Hardangervidda and Eidesnuten in Odda. Next trip I'd love to be able to stay for longer and explore the top half of the country. June was a great month in terms of weather to visit, and I'd recommend staying for at least a full week or more (especially if you will be camping and hiking). Check my Norway Travel Guide list below for information on all my favorite places to see, and do while there! Don't forget to hover over the pictures for more details!
ROAD TRIPPING THROUGH NORWAY
ROAD TRIPPING THROUGH NORWAY
One of the best ways to explore Norway in our opinion is via car. You can stop and go wherever you want and enjoy the most beautiful scenes. The lakes are crystal clear, the fjords are magical, and the little houses so picturesque. Everywhere you look you see a postcard view that takes your breath away!
FJORDS OF NORWAY
You cannot say you've visited Norway without seeing at least one of it's beautiful fjords. While there's so many methods to see them, such as hiking, kayaking, and boating, we chose to hike because we wanted to have an aerial view.

While we were originally planning to hike the famous Trolltunga trail, unfortunately we couldn't fit a 8-12 hour hike into our schedule. Eidesnuten was perfect for us as it takes around 3-5 hours to complete the 903 meter high hike.

Wearing appropriate hiking gear is super important. You want to wear the right shoes and clothes so you are comfortable and safe, especially for arduous hikes. Check the links below to find more information on the trails and outfit details!

Eidesnuten Trail: Here
Beautiful Fjord Hikes: Here and Here
Outdoor Fleece Jacket & Tights: 686
Columbia Women's Newton Ridge Plus Hiking Boot: Amazon
Mava Sports Knee Supports: Amazon
HARDANGERVIDDA NATIONAL PARK
HARDANGERVIDDA NATIONAL PARK
Norway has 44 national parks, and they are a wonderful way to see the raw, natural beauty of the country. The largest of the parks is Hardangervidda National Park. It was created to preserve the beautiful landscape, and arctic fauna and flora of the area. In particular, this area is a sanctuary for the migration routes of wild reindeer, home to some of the world's largest reindeer herds. The high mountain plateaus create cold, alpine temperatures year-round, hence the snow-capped mountains even though we visited during the summer. Make sure to dress warmly, and enjoy hiking, camping, waterfalls, and much more in this beautiful park.

Hardangervidda National Park: Official Website
Hardangervidda National Park Routes: Official Website
Norway National Parks: Here and Here
OSLO
Oslo is the capital and largest city in Norway. For Scandinavian design lovers, avid coffee drinkers, shopping, architecture, and more, this city does not disappoint!

Oslo Info: Official Website
OSLO OPERA HOUSE
If you love beautiful, modern architecture, then you have to check out this Oslo landmark. The opera house is designed by Snohetta Architects and is a must see! Check out my extended blog post on the opera house here!
SUNDAY MARKET AT BLÅ
The Sunday market at Blå in Oslo is a quaint and colorful market filled with both handcrafted, vintage, and second-hand wares, along with food options such as waffles! Come here to shop for jewelry, bags, vinyls, ceramics, gifts and more.

Address: Brenneriveien 9, Oslo
Time: Sundays 12-7 pm
More Info: Website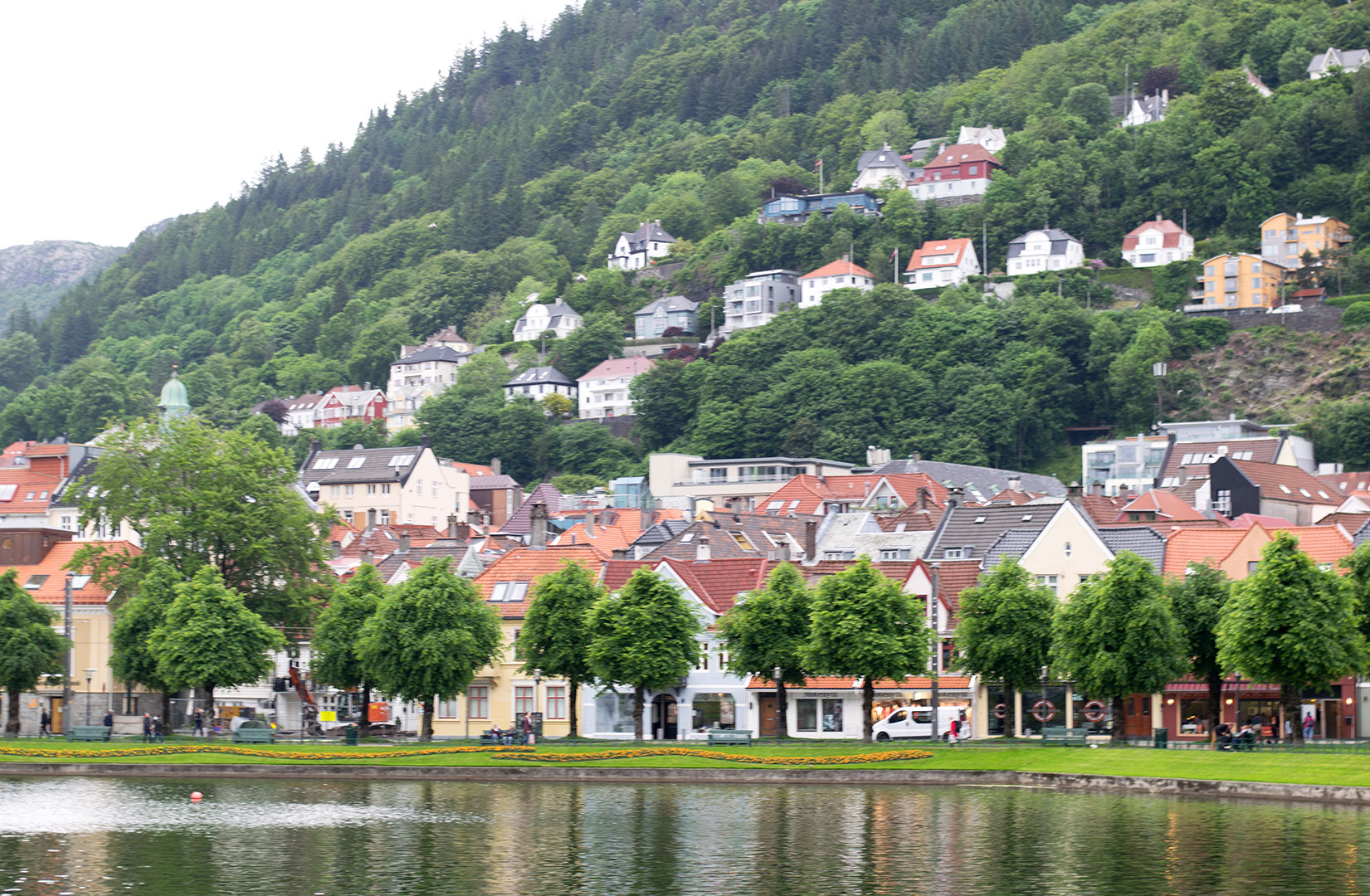 BERGEN
Bergen is the second largest city in Norway after Oslo, and was honestly our favorite part of the whole trip. It is one of the oldest port cities in Northern Europe, dating back to the 12th century
Bergen Info: Official Website
BRYGGEN
All along the main seaport dock in Bergen is Bryggen, a UNESCO World Heritage Site. Bryggen is an historic harbour district comprised of the wharf and commercial buildings dating back to around 1350 during the Hanseatic League's trading empire from the 14th to 16th centuries. Around 62 of the original buildings are still preserved in the original architectural style.

Bryggen Info: Official Website
Bryggen UNESCO Info: Official Website
MOUNT FLØYEN
Mount Fløyen overlooks Bergen and is a great way to see beautiful, aerial views of the city below.

From the city centre, at the fish market, walk about 150 meters until you see the entrance to the Fløibanen funicular (railway). Buy tickets to get to the top of Mount Fløyen, or even hike to the summit.

Info: Website
Price: 90 NOK Roundtrip for Adults
EXPLORING BERGEN
Being a tourist is part of the fun of travel, which means exploring the sites, smells, sounds, and foods of a location for the very first time. Hover over the pics for info!
For all those planning a trip to Norway, I hope my Norway Travel Guide is helpful and gives you ideas on where to go and what to do! For all those who didn't have Norway on their bucket list of travel places, well I hope I've inspired you to take a trip to this beautiful country. If you've already been, or are planning to go, I'd love to hear your favorite spots! I can't wait to visit Norway again!

Be on the lookout for my upcoming post "Where to Eat in Norway," coming very soon!

XOXO
CREDITS:
Photography: Annie Cho, Jackson Kuo

SHOOT LOCATION:
Norway