Where to Eat in Norway
If you love coffee culture and the freshest seafood, or if you like pretending you're a Viking warlord by vicariously consuming Nordic food, well then Norwegian gastronomy is right up your alley! This Norway Food Guide covers my travels in Oslo and Bergen to give you awesome ideas of where to eat in Norway!
The first stop in our Norway Food Guide is the capital city of Oslo. When I think about Norwegian Cuisine, I immediately think of hearty reindeer stew, fresh seafood (especially fish), pickled herring, fish soup, fresh breads and cheeses, and Aquavit. There are truly so many foods to try when you visit. What else comes to mind? Coffee. According to World Atlas, Norway places 2nd in the top "10 Coffee Consuming Nations." To live up to their name, the coffee culture is strong, with a plethora of cafes and coffee shops. Check out all my delicious food recommendations below!
W. B. SAMSON (GRUNERLOKKA)
The very first cafe we visited in Norway was W. B. Samson. I found out later while traveling that W. B. Samson is actually a chain of cafes. All the W. B. Samsons that we visited were not only had the prettiest interiors, but really spot on coffee, pastries, and sandwiches.

IG: @wbsamson
NORD GRÜNERLØKKA
Norð Grünerløkka was my personal favorite coffee and bakery shop. Located in Grünerløkka, it has amazing coffee that they roast in their basement and fresh baked goods. The interior is really lovely with lots of seating areas both on the main and basement levels. I loved it so much I brought a bag of coffee beans back home!

IG: @nordoslo
ELIAS MAT & SÅNT
Elias Mat & Sånt is a great restaurant for traditional Norwegian cuisine. To start, we had a few glasses of wine, asparagus soup, and a charcuterie plate with homemade bread (yum!). For entrees, Jack had the reindeer stew, and I had the barley risotto. Everything here is solid, and the atmosphere is friendly and cozy as well.

Website: Here
MATHALLEN
Mathallen is an indoor food hall heaven made for foodie fanatics and gastrophiles. Check out some of my favorite shops within Mathallen below! There's so many more that I didn't get a chance to try because I was absolutely stuffed, but I can't wait to go again and check out all the other spots! I need to get a bigger belly stat. #foodieproblems
VULKANFISK
Vulkanfisk is a seafood restaurant at Mathallen. We tried the peppered king crab legs, and oh my they are so flavorful and lick your fingers delicious! Have a glass of wine and try out the oysters and mussels as well. We were too stuffed to try the fish stew (a Norwegian classic) but I hear it's very good here!

Website: Here
BARRAMON
Barramon is a pintxos (tapas) bar and deli specializing in food from the Basque Country in Northern Spain. We ate several plates of delicious breads topped with the yummiest ingredients, such as Iberico ham, salmon, Spanish tortillas, piquillo peppers, and more!

Webiste: Here
VULKAN FRUKT OG GRØNT
Vulkan Frukt og Grønt has a wonderfully curated selection of fresh produce, spices, oils, and gourmet cooking more. It's a great place to pick out some specialty ingredients for your cooking friends or yourself!

Website: Here
HENDRIX IBSEN
Hendrix Ibsen is a wonderful cafe with an amazing coffee, an art gallery, and a great selection of vinyl and books. The cozy interior and awesome music is also a great plus. Hendrix Ibsen is not located inside of Mathallen Food Hall, but the row of restaurants and shops surrounding the central building.

Website: Here
MAAEMO
Maaemo, meaning "Mother Earth," is a Michelin star rated restaurant in Norway focusing on fresh produce and served as a curated set menu for all guests. Unfortunately I wasn't able to visit because reservations were all booked for the time we would be there. If you're planning a trip there, make reservations months in advance to be safe! I definitely plan on going to Maaemo the next time I'm in Oslo.

Seasonal Menu: 2500 kr
Website: Here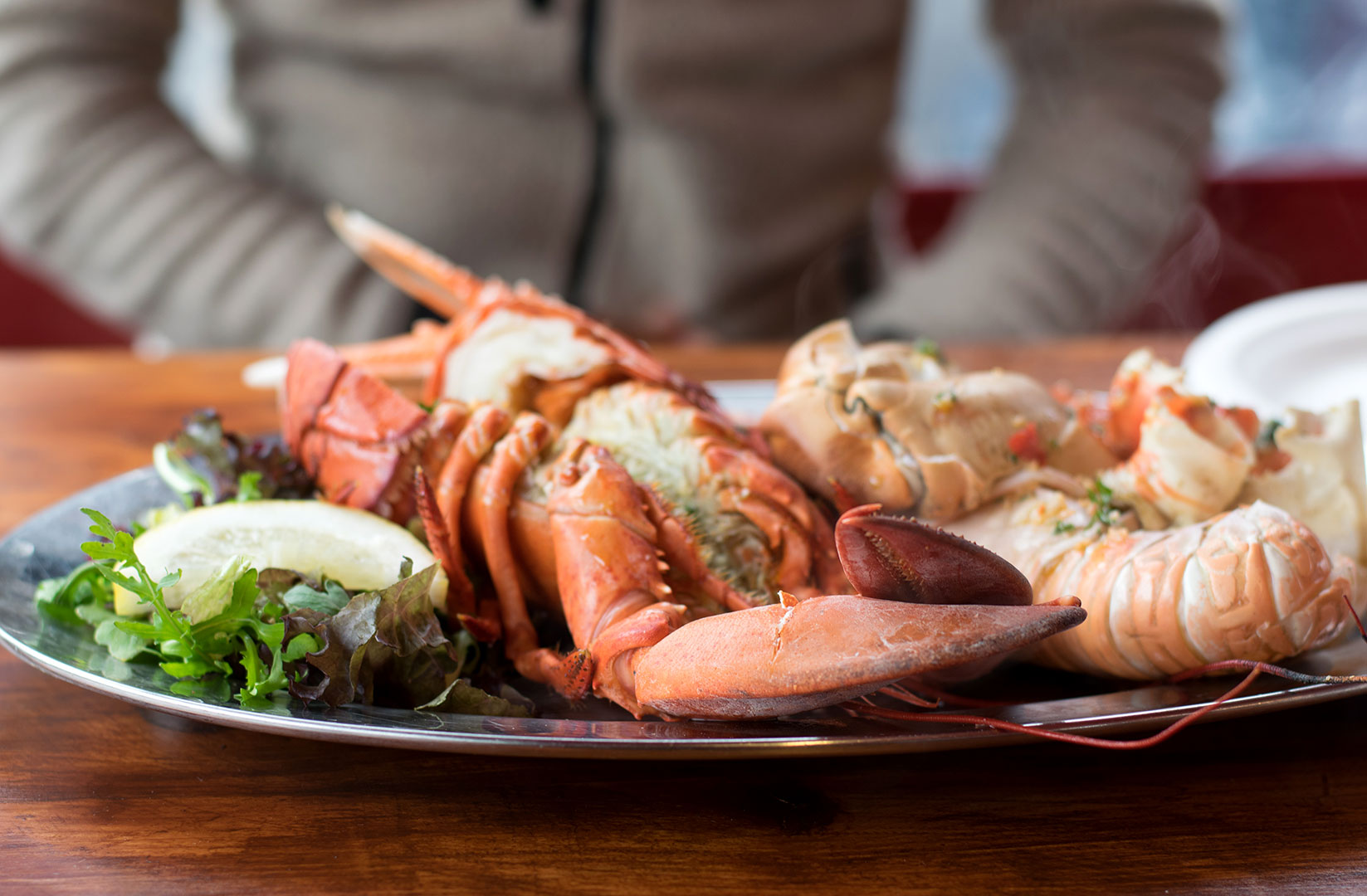 The next stop in the Norway Food Guide is the second largest city in the country, Bergen. A historical port city, you cannot come here without tasting its fresh seafood! Check out all the recommendations below!
FISH MARKET IN BERGEN
If you visit Bergen, the local fish market is a must. Seafood vendors display their fresh catches on ice and you can choose seafood from selected platters or a la carte. Then they will cook it the way you like, and it's absolutely yummy.

There are also fresh fruit and condiment stands so shop around!

Website: Here
LYSVERKET
Lysverket was a wonderful restaurant experience where I was able to taste the freshest, local Norwegian produce, amazing and attentive dining service, beautiful culinary art, and the prettiest Scandinavian interior. We had the 7 course meal along with some complimentary appetizers. Click the images below for a larger view!

Website: Here
LYSVERKET
DISH 1: Appetizer 1
DISH 2: Appetizer 2
DISH 3: Fish Stew
LYSVERKET
DISH 4: Oyster emulsion with cauliflower and pickled cucumber
DISH 5: Scallop, turnip salad with salted plums and nasturtium pure
DISH 6: Asparagus from Hvasser, black garlic puree, and cured egg yolk
LYSVERKET
DISH 7: Tusk fish with cabbage, shellfish sauce, sunchoke and seed crumble
DISH 8: Crab salad with dried tomatoes from Brimse and pine spruce
DISH 9: Buttermilk and saffron ice cream, caramel, buckthorn and sunflower seeds
COLONIALEN LITTERATURHUSET
Colonialen Litteraturhuset is a cafe and brasserie that we went to for brunch. The interiors and food are all top-notch, and I can't wait to visit again. Colonialen dishes creatively reinvent classic Nordic cuisine, focusing on fresh, seasonal produce. Also in the Colonialen family is the Restaurant, Strandgaten 18, Kranen, and Paradis.

Website: Here
Hope you enjoyed my Norway food guide, and that it gives you some awesome ideas for where to eat in Norway! I can't wait for you to visit and let me know how you like any of these places. If you have already visited, please comment below with your recommendations! I definitely will go back in the future, and would love to find out your favorite places!

Don't forget to follow me on Pinterest for awesome food and travel guides, and Instagram for a glimpse into my every day life!

Wishing you all the loveliest week. Don't forget that you are MAGIC, and capable of amazing things!

XOXO
CREDITS:
Photography: Annie Cho, Jackson Kuo

SHOOT LOCATION:
Norway