8 Instagram-Worthy Cafes In Bangkok Thailand
One of my absolute favorite things about travel is trying yummy new food! Food never fails to make me happy. But what's even better than good food? Instagram-worthy food! It's all about taking that perfect Instagram photo of beautiful food set in equally gorgeous interiors. And if there's one thing you should know about Bangkok, it's that there's a plethora of foodie destinations worthy of your next photo-op. After my gastronomic adventure through Bangkok last month, I knew I had to share with you all of my favorite spots from the trip. So keep scrolling to view my list of 8 Instagram-worthy cafes in Bangkok Thailand. The list is sure to waken your inner foodie, and you'll be planning your trip to Thailand in no time!

From delicious brunch spots, animal cafes, and cute coffee shops, I'm sure you'll get hungry before the end of this post. Scroll through the photos to see more food and interior views of each spot, and don't forget to bookmark or pin the pics so you can easily reference them.

This was actually my second time to Karmakamet Diner, and I'm thinking of making it a tradition to go every time I visit Bangkok. I'm always impressed by the gorgeous, rustic interior, delicious food, and impeccable service. I recommend going early for brunch before the place gets busy, and order the breakfast plate, the pancakes, and the crab pasta. While the food is on the pricy side, it's totally worth treating yourself to the amazing food and lovely ambiance. After you eat, or while you're waiting for your food to come out, browse through the store as well, where you can find home goods including skincare, candles, and more! It's a perfect place for gift shopping.

Venue Type: Restaurant, Cafe, Lifestyle Store
Address: 30/1 Soi Metheenivet, Klongton,Klongtoey, Bangkok Thailand
Hours: Mon-Sun 10:00am - 11:30pm
Website: https://www.karmakametdiner.com/
Phone: +66 2262-0700
I have three words for you: PURE PINK PARADISE! 💖 Is there any color that makes you happier?! House of Eden is the most delightful pink heaven on earth. If you're obsessed with pink as much as I am, you need to check out this restaurant and be immersed in their floor to ceiling, pink interior design that is so gorgeous you'll be inspired to turn your own home pink!

I went for the desserts, and ordered a matcha chocolate lava cake, tiramisu, latte, and strawberry milkshake. Everything was absolutely delicious, but that lava cake was beyond heavenly. It's served warm with an ooey gooey chocolate center that's melt-in-your mouth delicious. It's a must try on their menu! Next time I'll go for dinner so I can try out their other food and cocktails!

I made an extended blog post just on House of Eden here, so check it out for more interior views, food shots, and outfit details so you can shop the look!

Venue Type: Restaurant & Cafe
Address: 999/9 อาคาร เซ็นทรัลเวิลด์ Rama I Rd, Pathum Wan, Bangkok 10330, Thailand
Hours: 10am - 10pm Daily
Website: https://www.facebook.com/houseofeden.th/
Phone: +66 62 420 7999
3. MAY'S GARDEN HOUSE RESTAURANT
One of my favorite filmmakers is Hayao Miyazaki. I grew up watching My Neighbor Totoro, Howl's Moving Castle, Spirited Away, and the rest of his beautiful films, so it's no secret that I am obsessed with the cute Totoro character. When Jack told me that there's a Totoro cafe in the heart of Bangkok, we booked a reservation at May's Garden House Restaurant via their Facebook Page immediately.

As soon as you enter you're greeted by a giant-sized Totoro plush, and I immediately gave him a big hug! The interior is so cozy and inspired by the movie. From stained glass windows featuring the movie characters, to beautiful table settings, everything was a literal Totoro heaven! While I only stayed for the desserts, you can also order from a really delicious, Asian-fusion menu.

Now let's talk about the desserts! There's so many kawaii desserts to choose from, it'll be hard to pick. We went for a Totoro shaped mango cake with "mushroom" meringues and cake crumbs, and the Susuwatari dessert featuring little black mochi (rice cakes) in a matcha bath. They were both super delicious, not to mention beautifully crafted and Instagrammable! If I didn't have lunch plans after I would've tried a few more out. This only means I'll have to visit again!

Venue Type: Asian Fusion Restaurant & Cafe with mostly Thai entrees and My Neighbor Totoro inspired Japanese desserts
Address: 18 Soi Lak Khet (Sukhumvit Soi 29), Khlong Toei Nuea, Watthana, Bangkok, Thailand 10110
Hours: 12pm - 9pm Daily, Excluding Mondays
Website: https://www.facebook.com/MaysBangkok/
Phone: +66 2 034 9127
I've been to two of the four Rocket Coffee Bar locations, and this is definitely my favorite one because of the gorgeous interior. I love the beautiful tile work on the floor and the pendant fixture is a sculptural work of art! Come here for coffee and brunch, a delicious latte while you read a book, or for dinner! This place is a must for all coffee-lovers!

Venue Type: Restaurant & Cafe
Address: 46/12 Sukhumvit Soi 49. , Sukhumvit Road., Bangkok 10110, Thailand
Hours: Mon-Sun (7am - 9am), Fri-Sat (7am - 11pm)
Website: http://rocketcoffeebar.com/
Phone: +66 2 6626 638

B-Story Cafe is another go-to-spot for coffee lovers. The 3D animal lattes are beyond adorable, and the European-inspired interior is very cozy and lovely. There's a mix of Thai and Western dishes to choose from, as well as pretty drinks and desserts. I got the bear iced latte with the cutest three-dimensional bear latte art! I'm totally dying from cuteness!

Venue Type: Restaurant & Cafe
Address: 89, 70 Phayathai Rd, Khwaeng Thanon Phetchaburi, Khet Ratchathewi, Krung Thep Maha Nakhon 10400, Thailand
Hours: 10am - 11pm Daily
Website: https://www.facebook.com/B-Story-Cafe-456139967853888/
Phone: +66 98 290 5033
6. POOLTIME CAFE (RACCOON CAFE)
This is my first time going to an animal cafe, and a raccoon cafe at that! Pool Time Cafe is home to the cutest, plump raccoons that are silly and mischievous, and of course, oh so adorable! To play with the raccoons, you can pay a separate fee when you order food on the first floor. Once you're ready, you go upstairs to the raccoon play room to meet these furry friends. We were able to meet a raccoon couple, Bobby and A-Po. Fair warning, raccoons are super curious creatures, so don't wear anything like shiny jewelry that they can yank on. Bobby And A-Po were super mischievous and climbed over everything, including us!

For the food, we ordered the Pool Time Milkshake and the Summer Sour. The milkshake was delicious but I couldn't finish it because it was sweet, but the Summer Sour was nice because of the hint of sourness and the carbonation made it very refreshing from the heat. Next time I want to order the Blue Burgers, which are hamburgers with blue-colored buns! If you've never been to an animal cafe in Bangkok, I definitely recommend this one!

Venue Type: Restaurant
Address: 582 ถนน สุขุมวิท 63 แขวงคลองตันเหนือ เขตวัฒนา Krung Thep Maha Nakhon 10110, Thailand
Hours: 12pm - 8pm Daily, Closed Monday
Website: https://www.facebook.com/POOLTIME.CAFE/
Phone: +66 90 652 4109
Not Just Another Cup is a really solid place for coffee and brunch. The interior is bright and inviting, the service is friendly and professional, but it's really the food that shines the brightest. Everything is gorgeously plated on beautiful flatware, and really tastes as delicious as it looks. We ordered the Full English Breakfast, the Moroccan Eggs, the Breakfast French Toast, a latte, and a GK1 Green Smoothie. Although it's hard to pick a favorite, I'd say the French Toast was really stellar. I'd say it's the best French toast I've ever had! Come here for brunch, dinner, coffee, or desserts, and you will leave happier than when you came!

Venue Type: Restaurant & Cafe
Address: 75/1 Sathon Soi 10, Khwaeng Silom, Khet Bang Rak, Krung Thep Maha Nakhon 10500, Thailand
Hours: 7am - 7pm Daily
Website: http://www.notjustanothercup.com/
Phone: +66 2 635 3464
8. TOBY'S ON SUKHUMVIT 38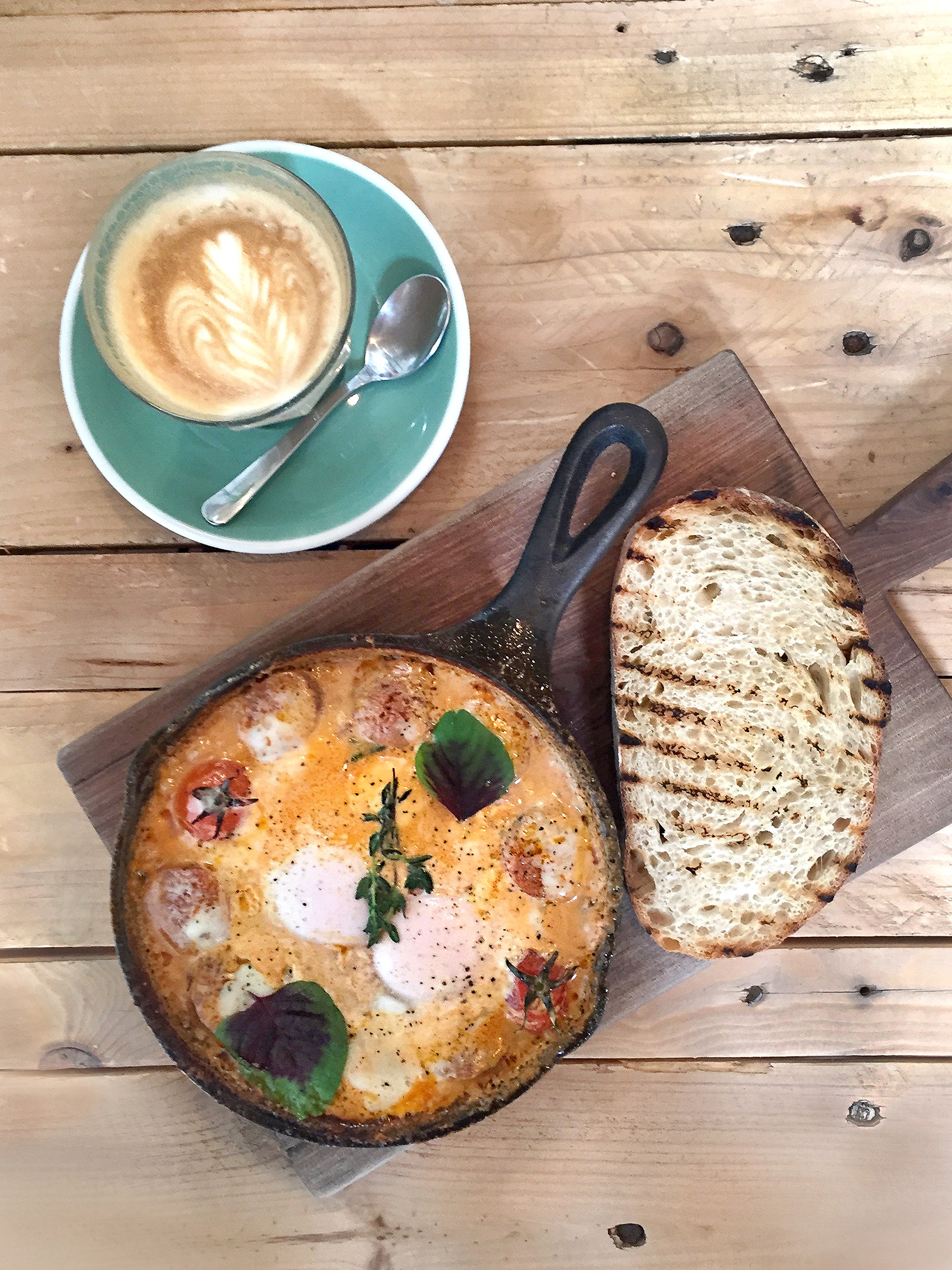 Toby's on Sukhumvit 38 is a delightful restaurant and cafe with a beautifully designed interior, with rustic, Scandinavian vibes. They have an extensive menu of delicious foods, coffee, pastries, fresh-squeezed juices, and more, and my favorites were the English breakfast, baked eggs, and green juice. The food plating is so pretty and colorful it makes me so happy! I can't wait to visit again.

Venue Type: Restaurant & Cafe
Address: 75 Sukhumvit 38 Alley, Khwaeng Phra Khanong, Khet Khlong Toei, Krung Thep Maha Nakhon 10110, Thailand
Hours: 9am - 10:30pm Daily, Closed Monday
Website: https://www.facebook.com/tobysk38/
Phone: +66 2 712 1774


I hope this post is making you excited to visit Thailand! Is there a particular spot you want to visit the most? And if you've already been, what were your favorite places to eat? I'd love to know for my next trip there. And yes, I already plan to go again!

As always, thank you so much for reading and stopping by!

Happy and yummy travels, loves!
XOXO

CREDITS:
Styling: Annie Cho
Photography: Annie Cho & Jackson Kuo

SHOOT LOCATION:
Various Locations in Bangkok, Thailand

DISCLOSURE STATEMENT:
This post uses affiliate links. Please read the disclosure statement here.