Ultimate Weekend Travel Guide to Bermuda
Early this March I went on a quick weekend trip to Bermuda and had an absolutely amazing time. Jack and I went knowing that it was still winter season there, but nevertheless had a great time (sans the ocean swimming). Normally when we go traveling to a new place, there is little to no time to relax as we feel pressed for time to see everything. This time, we really made a point to take things easy, not see every part of the island, and instead take our time enjoying our activities. Bermuda was a beautiful island paradise to explore, and we can't wait to go again! Hover over the pictures for more information. Hope this post inspires you to visit Bermuda!
HORSESHOE BAY BEACH
This is Horseshoe Bay Beach with its famous pink sand and turquoise waters. One of the locals told us that the ocean's beautiful turquoise color comes from the crystal clear waters reflecting the blue skies above. You need to see the ocean in person - the sea green color is absolutely breathtaking!
The pink sand is made from marine organisms called foraminifera. When they die, they shed their red shells, which washes ashore and gets mixed with the white sand.

Info: Website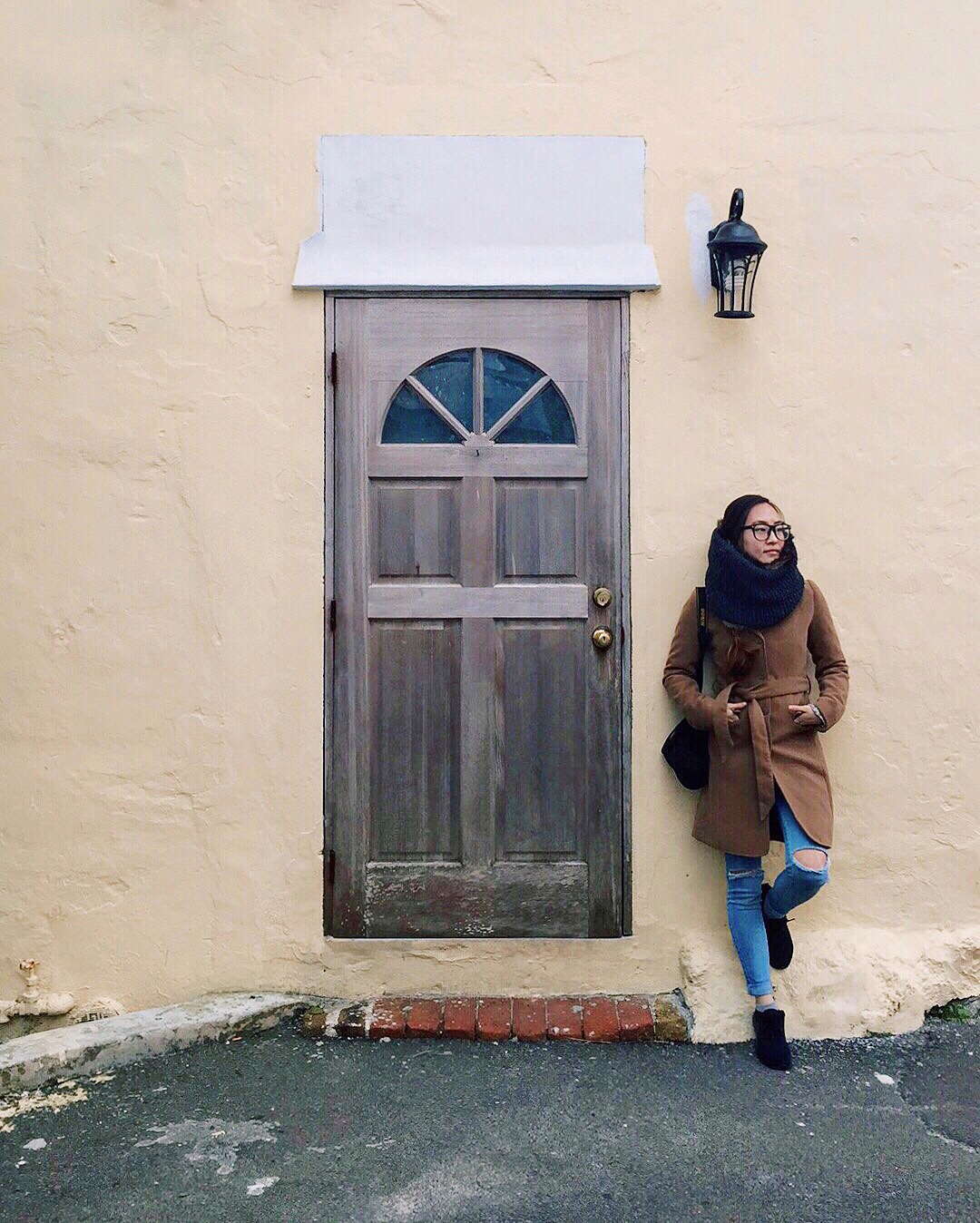 ST. GEORGE'S
St. George's is the first English settlement on the island, and Bermuda's original capital. Explore the historic city by visiting King's Square, Town Hall, the port, Tucker House Museum, Somer's Wharf for shopping, and one of the many restaurants along the waterfront for beautiful views. Also visit the Unfinished Church nearby if you love Gothic architecture!

Info: Website
PASTEL ARCHITECTURE
When you visit Bermuda, you can't miss the colorful pastel architecture. One of our taxi drivers told us that the colors were inspired by the flowers that bloom on the island. Jack and I took our little scooter all over the island and loved that wherever we went, we were always surrounded by a rainbow of vibrant color.
TOBACCO BAY
Nearby St. George's and Fort St. Catharine is Tobacco Bay. Surrounded by unique limestone formations, Tobacco Bay Beach feels like a hidden paradise. The shallow waters are perfect for wading in, and the restaurant and bar, live music, snorkeling, water sports, and numerous activities provides endless fun!

Info: Website
HAMILTON
Hamilton is the capital city and commercial center of Bermuda. Come here to shop, eat/drink, and explore Front Street, the historic walking area.

Our favorite restaurants in Hamilton were Lobster Pot for amazing seafood, and Port O Call for its fine dining.
CRYSTAL & FANTASY CAVES
Bermuda's Crystal Caves were discovered in 1907 when two boys scrambled down a hole in search of their cricket ball. They never expected to discover a wondrous cave of stalactites and stalagmites amidst crystal clear pools of water. Consisting of the Crystal Caves and the Fantasy Caves, this is a natural wonder that you must see on your visit here!

Hours: 9am-5pm Everyday
Tickets: Crystal Cave $22, Fantasy Cave $22, Combined Ticket $30
Info: Website
UNFINISHED CHURCH
Designed by Scottish architect William Hay, construction for this Gothic Style church began in 1874. Due to conflicts within the church, lack of funds, and a storm that caused severe damage to the structure, construction was abandoned, leaving behind exposed ruins. This beautiful Gothic Church is a must see for all architecture lovers!

Info: Website
 
ROCK CLIMBING
Jack and I love to rock climb, and while doing our research on Bermuda before arriving, we found out that it's a gold mine for outdoor rock climbers. There are routes all over the island for bouldering, deep water soloing, sports climbing, and soloing. It's a wonderful way to get a climb in and enjoy the beautiful scenery at the same time!

Climbing Routes/Maps: Here

 
LODGING

AIRBNB
I stayed at the cutest Airbnb off of Cobbs Hill Street, about 10 minutes from downtown Hamilton. Rather than a hotel, I really enjoyed getting an Airbnb as it felt like I was able to get more of a local's experience of Bermuda. The entire neighborhood surrounding my Airbnb had the cutest pastel houses, and it was wonderful strolling around and exploring the area.

Info: Website



 
TRANSPORTATION

SCOOTERS
If you're up for the adventure, scootering is by far the best way to explore the island! We rented our scooter from Elbow Beach Cycles. The ease of stopping and going anywhere on the island was perfect for us. We really felt like locals!

BUSES
Buses are another convenient way of getting around the island. Bus stops with pink poles takes you to downtown Hamilton, and blue poles take you outbound from Hamilton. You can buy bus tokens or day passes from the Ferry Terminal in Hamilton, Visitor Information Centres, hotels, post offices, etc.

Bus Fares
Latest Bus Schedule

FERRY
Enjoy the wonderful views by taking the ferry around the island!

Click here for additional travel information on Bermuda! We hope this inspires you to visit the beautiful island! XOXO

CREDITS:
Photography: Annie Cho, Jackson Kuo

SHOOT LOCATION:
Bermuda