March Beauty Favorites
Hi Loves!

I'm starting a new monthly series called "Monthly Beauty Favorites." In addition to my love for fashion, I adore all things beauty and skincare. As a lifestyle blogger I am constantly trying out new products, and I wanted to use this platform to highlight all of my favorite finds and share my beauty secrets with you! Every month I will showcase the top products I'm currently loving, with pics and links to all the products, as well as in-depth reviews.

For my March Beauty Favorites, I have a mix of skincare and makeup products that you're sure to love. Read my reviews below to see why these made it to the favs list!
VELVET MATTE LIPSTICK:
This is hands down the holy grail of matte lipsticks. I'm wearing shade Survivita by Christian Louboutin, and the color is ultra-pigmented. The matte formula is not drying at all and has AMAZING staying power. I can wear this all day without reapplying, even after meals! The beautiful gold vial packaging makes this a showcase product. I love taking it out of my purse to apply it. While it's definitely a splurge purchase, it's totally worth it. Think about the fact that it needs no reapplying, and the color power is amazing. It makes for a really special gift as well!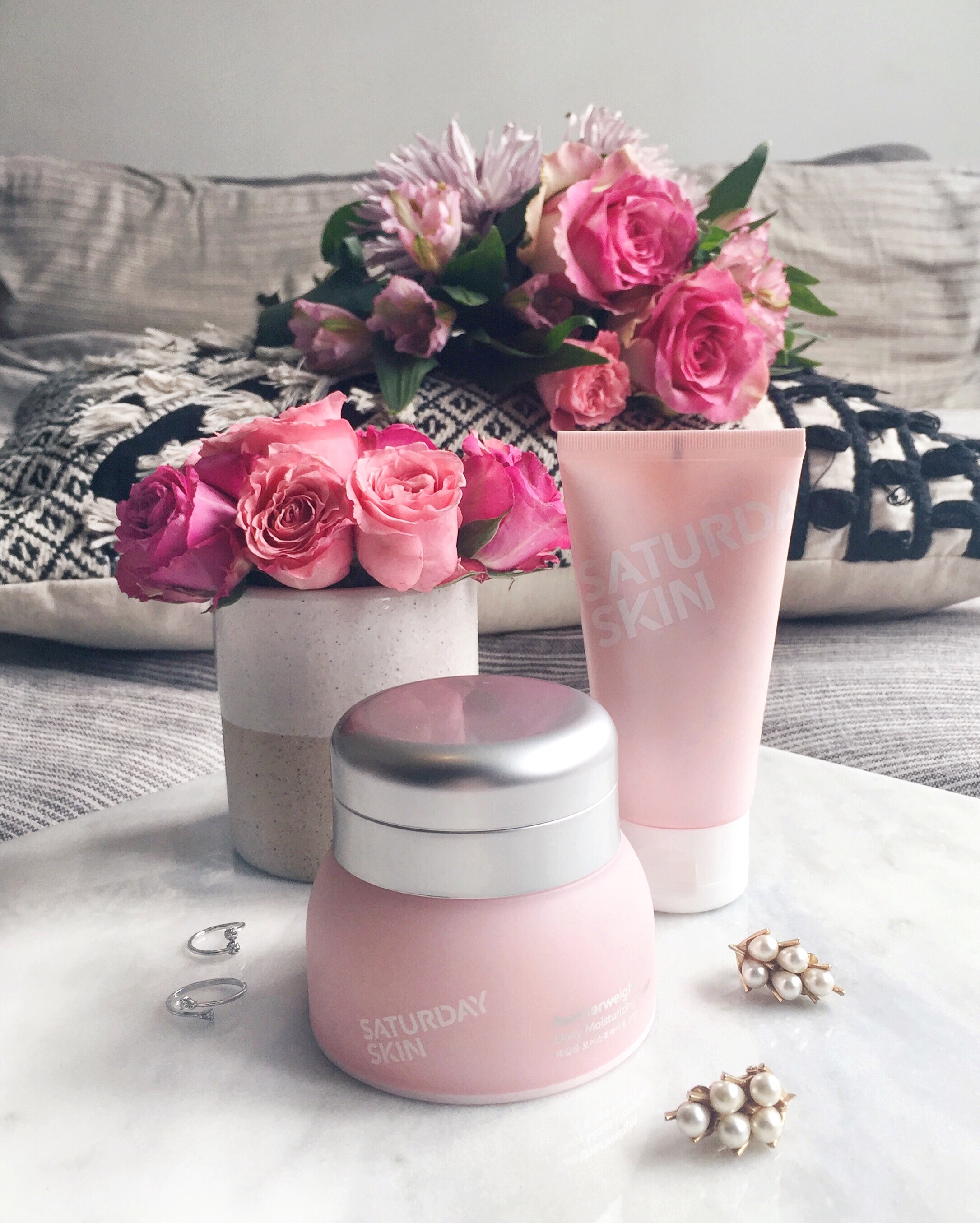 1. RUB-A-DUB REFINING PEEL GEL:
I love the soft, grainy texture of this gel. It feels great massaging it into my skin and gently exfoliating off my dead skin cells. I have pretty dry skin, and this really helps even out my skin tone and preps it for makeup. It's filled with natural goodies like papaya enzymes and natural cellulose to pull gunk from your face and leave you with brighter, smoother, and firmer skin. All Saturday Skin products contain no parabens, sulfates, nor artificial colors/fragrance which is a must in my book!

2. FEATHERWEIGHT DAILY MOISTURIZING CREAM:
I love how light and non-greasy the formula is, and the nice fresh scent. The bottle has a neat pump feature where the cream comes out in a flower shape. How cute is that?! I use about one pump morning and evening after my serums. And have noticed better results than some of my other creams that are denser and more expensive for that matter. This one contains avocado extract to protect and soften skin - awesome!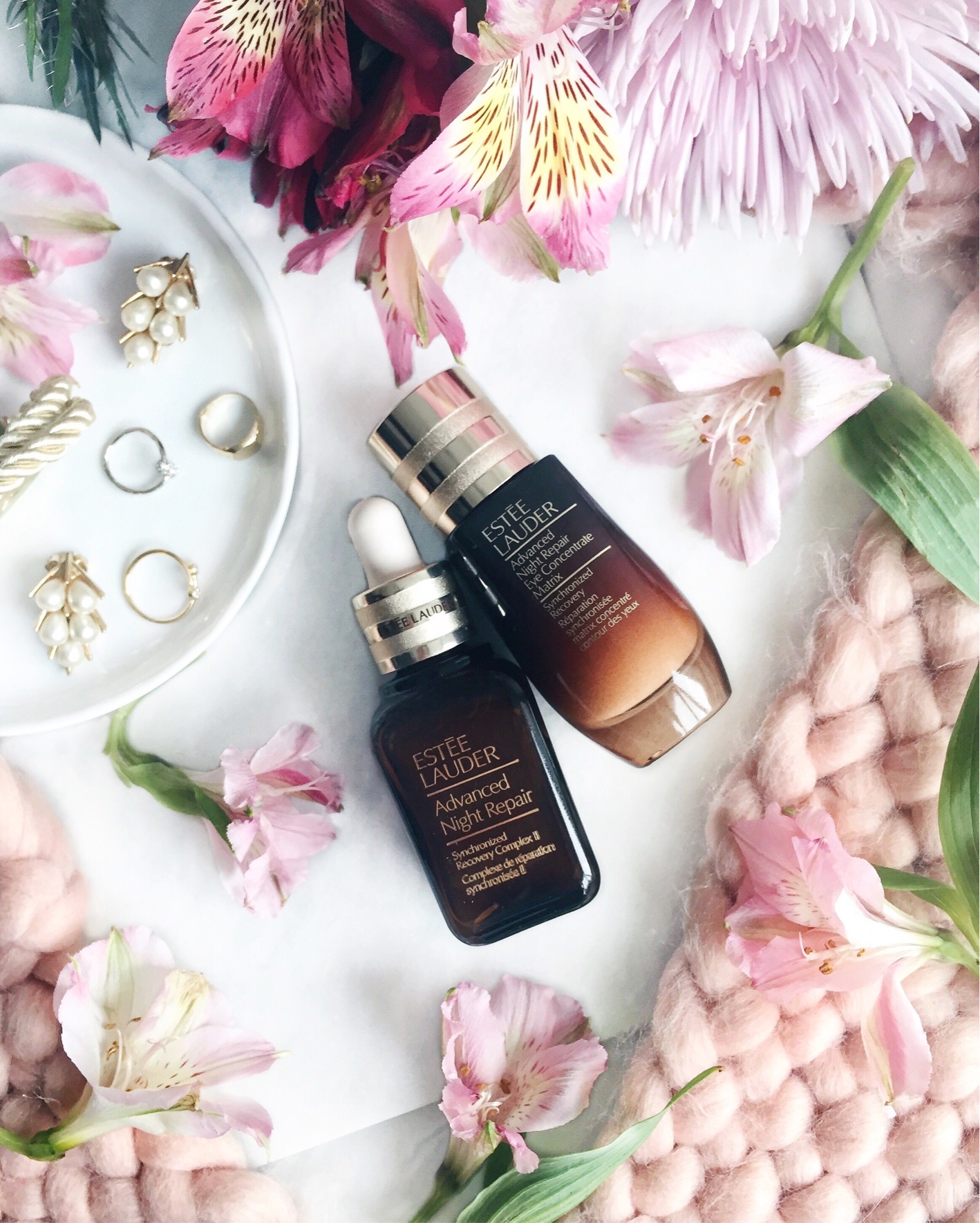 1. ADVANCED NIGHT REPAIR SYNCHRONIZED RECOVERY COMPLEX II:
This is an anti-aging repair serum filled with hyaluronic acid, which is super hydrating for your face. I have very dry skin so I've been using two pumps day and night right after cleansing and using toner on my face. Give it about a week of consistent use and you'll see that your skin tone feels so much smoother and moisturized.
2. ADVANCED NIGHT REPAIR EYE CONCENTRATE MATRIX:
This product has a round-tipped, massaging applicator that is so gentle and soothing as you apply it to your eyes. It feels like it's calming and cooling the skin around my eye area. I always wake up with puffy eyes and dark circles, and this has been a lifesaver. My under eyes feel awake and hydrated!
1. FLASHPATCH NIGHT RESTORING EYE GELS:
Patchology has been one of my favorite skincare finds in the month of March. I've been using face masks for 10+ years, but this was my first time trying out an eye gel/mask. I love how cooling the hydrogels feel when you put them on, and how firm and awake my under eyes felt afterwards. The anti-aging Retinol, peptides, and arnica extract really work wonders! I love how it only takes five minutes to see amazing results.

2. FLASHPATCH HYDRATING LIP GELS:
This was my first lip gel and I'm hooked. I not only have dry skin, but also dry, chapped lips, so this is a must for me. These lip gels are so much easier than lip scrubs. They smell nice and really cling to your lips without moving around. I apply these for five minutes and then gently rub off the dead skin on my lips. These are perfect for prepping your lips for lipstick, or just to hydrate your lips.
1. FACESTUDIO MASTER PRIME HYDRATE + SMOOTH PRIMER:
The primer is really light and hydrating, without any greasiness. I would prefer it to be scentless, but it's not a deal breaker for me. I love the price point and it works really well for me, so I'm super happy with it!

2. FIT ME DEWY + SMOOTH FOUNDATION:
This foundation works great for people who have dry skin like me. Some foundations will make my skin even drier and create flaky patches, but this truly leaves my skin dewy and smooth. I have more expensive foundations, but I am impressed with the color pay off of this one. I use the shade Natural Beige and it's literally the perfect shade for me. It's my everyday go to foundation for light to medium coverage.
EAU ROSE HAIR MIST:
This is my first hair mist ever and I don't know why I haven't used one until now! To be honest, I never cared for rose scents when I was younger, but I am now all for it. This hair mist has a wonderful bouquet of roses, and it really smells so divine! I spritz it on and I can imagine myself strolling through a rose garden in Paris. This hair mist is both a hair perfume and hair oil because of the added camellia oil that protects and nourishes your locks. It's the last step in my beauty routine before I step out of the house, and I love that the subtle yet intoxicating scent wafts throughout the day! I've always loved Diptyque candles, and I'm so happy to try all their range of products!


CREDITS:
Graphic Design, Photography, & Styling: Annie Cho

DISCLOSURE STATEMENT:
This post uses affiliate links. Please read the disclosure statement here.